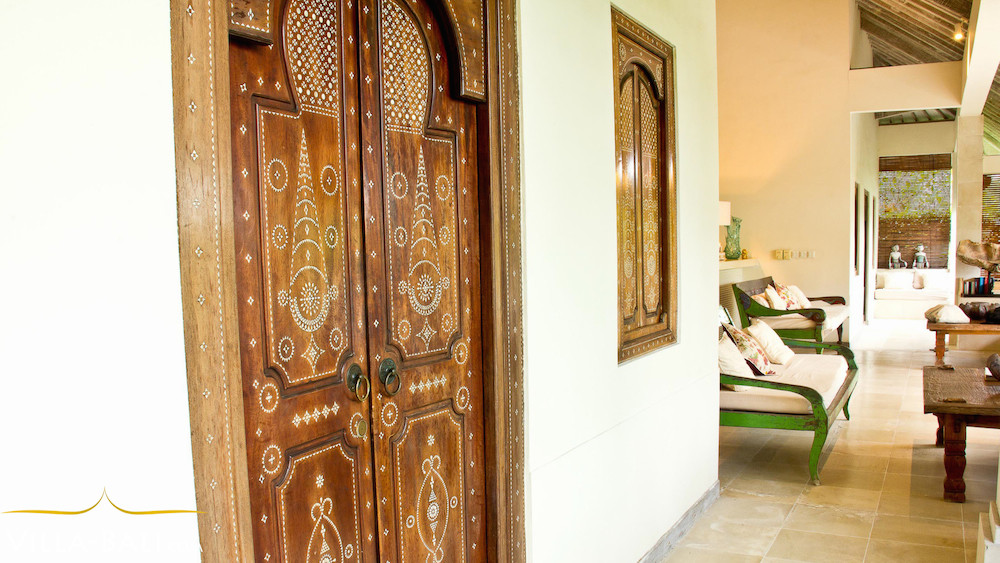 About Villa Senang
Villa Senang truly is a little private slice of paradise, located perfectly in Batu Belig, close to the beach and just minutes from the fashionable center of Seminyak. This charming and tropical 4-bedroom holiday retreat features not just 1 but 2 swimming pools in a gorgeous tropical garden that is wonderfully peaceful and private. You get to experience the best of tropical open-air living while the 4 bedrooms make perfectly comfy quarters to retreat to at night. Traveling with a larger group? No need to worry, you can rent Villa Senang together with its little sister Villa Gembira, adding two more bedrooms, an additional living space and an extra tropical garden with another swimming pool to this amazing holiday retreat. Start packing!

The Bedrooms
There are 4 bedroom suites found within the estate of Villa Senang, two inside the main living compound and two down below in the garden, tucked in a private garden bungalows for extra privacy. Carved doors lead into these peaceful bedroom suites, each furnished with a stunning king-size bed draped elegantly in creamy white canopy nettings. One of the beds can be configured into twin beds upon request. All bedrooms are fully air-conditioned and every room features a satellite-TV with DVD-player and a private tropical open-air en-suite bathroom with a rain shower. Two of the bathrooms also boast large soaking bathtubs to relax in at the end of the day, surrounded by greenery and pebble stones.

The living area
The spacious living pavilion of Villa Senang features a lovely open-plan design and it is decorated beautifully with antiques and traditional tribal artwork. There are comfy sofas tucked with white cushions adjoined by teak wooden coffee tables. Perfect for daytime lounging, listening to music or curling up with a good book. There is a glass-topped timber dining table for in-villa family breakfasts and dinners and there is a fully equipped western kitchen on-site as well, complete with a stove, oven, a large fridge, blender, toaster and a coffee machine.

Outdoor and pool area
The gorgeous two-level garden is a definite highlight of Villa Senang, sitting on 800 square meter of tropical land and boasting not just 1 but 2 swimming pools. The main glistening swimming pool overflows gently to a smaller pool in the lower level of the garden. The garden is surrounded by beautiful flowering plants, tall growing trees and palms like a little paradise retreat, indeed. After swimming a few laps in the 12-meter swimming pool, guests can work on their holiday tan on the reclining chairs or take a little daytime nap in the shade of a Balinese parasol. The gazebo makes another lovely spot to sit back and enjoy the garden view while sipping a nice tropical juice or a homemade Pina Colada. Enjoy!

Staff and services
Guests will be welcomed with warm hospitality by the attentive team of staff of Villa Senang. There is personal guest assistance, garden and pool maintenance staff, daily housekeeping and security service.

Around Villa Senang
While lounging in the private garden of Villa Senang, you will feel miles away from all of the hustle and bustle of Seminyak, while actually, the lively city center, with all of its boutique shops, cafés, restaurants and spas, is just a short drive away. Villa Senang is tucked in a real quiet gang, in walking distance of Batu Belig Beach, La Laguna Beach Club and renowned cafés and restaurants such as Watercress, Métis and Sardine. Canggu Club, thé place to go for a day of entertainment and family fun, is also just a short drive away and it takes around 30 minutes to get to Bali's international airport.
Click here to see all 22 villa pictures
Villa Senang was a perfect holiday getaway. We travelled with a group of friends with 2 kids of 9 years. The villa is in very good condition, everything is super clean. The very best for us was that the garden is not only beautiful but spacious. This allowed everybody to have his/her own space and enough room for the kids to enjoy themselves. Breakfast and dinner was really good, the cooks and housekeeper did their best to make the trip very comfortable. Would recommend this without hesitation.
The staff were absolutely awesome and accommodating- nothing was a problem for them. The villa was beautiful and the pools were perfect. Everything was clean. Location was fairly central between Seminyak & Canggu. It was more Kerobokan than Seminyak though. Breakfast was simple but satisfying- eggs on toast with some bacon, also fresh fruit, juice & pancakes- all ya need really! Overall, great holiday- would go there again for sure and definitely recommend to friends. They also have a great 2 bedroom villa attached next door.
Villa Senang is a great villa with really good value for money. The Garden and Pool are beautiful. The rooms spacious, nice, comfortable. The bed are good quality. Outdoor living room and Kitchen make the stay really special. Location of the villa is also good. Not far from the lively area of Seminyak. Staff are really nice. I would really recommend to stay in villa Senang.
My friends and I stayed at Villa Senang for my 40th birthday. It was absolutely gorgeous, as lovely as the pictures. The place was fully stocked, cleaned daily. The staff were very friendly and informative , and happy to assist where and when necessary. The pool was fantastic, and I loved coming back to chill in the pool and the outdoor area. I could not ask for more. Definitely worth the extra money as I felt like a star staying there. Also the staff were so good that they allowed us to use the facilities on the day we flew out which made the end of our holiday so much more stress free. Would strongly recommend, the place and the staff are fabulous . It is also nicely placed to get to the beach and some restaurants, and only a cheap taxi ride into the main town ( which you could walk in about 30 mins along the beach ) . Thanks for the stay , it made my 40th very special.
We enjoyed very much our stay in Villa Senang. Beautiful villa and bedrooms, a relaxing pool, but most of all a very helpfull and generous staff who fulfilled all of our needs. We surely recommand Villa Senang for a unforgivable and lovely stay at Bali!
My family and I recently enjoyed a very relaxing stay at Villa Senang. The Villa itself is kept in immaculate condition by the lovely, friendly staff. The manager Made is extremely helpful and aided us in organizing several day trips around Bali. The location is good, not too far from main tourist areas and there are several top quality restaurants within 5-10 minutes walking distance of the villa (BBQ restaurant Hog Wild was a particular favorite of ours). Only drawbacks were the beach (a bit dirty) and that there were no footpaths on the main road (treacherous for the kids). But overall, a great relaxing holiday. I would definitely recommend Villa Senang for anyone travelling to Bali!
Thank you so much Villa Senang! Villa = TOP Staffs = TOP Transfers = TOP We had a very good weekend!
Villa Senang is sublime! The owner, Pat, is super organized, friendly and reliable when we arrived she greeted us and then she lets us take possession of the house, it was very appreciable !! the staff is exceptional nothing is a problem. About the lay out of the villa. Everyone has their own space, as each double bedroom has its own bathroom so it's the perfect space. The design is done with taste. We really felt good. I hope we will return very soon! We love Bali and we are very fan of Villa SENANG.
We rented all of Villa Senang for just one weekend with 8 friends. The villa is as shown in the photos (maybe even better than the photos). Good sized community areas to hang-out yet each room has more than enough privacy for individual couples. The highlight is the two pools - really relaxing place where you could stay for the whole weekend. Shops and restaurants are a quick shortcut away. Made and Patricia were very helpful for organizing a car and staying later at the villa as our flight was late Sunday
Beautifully decorated, this villa is also very well located near the shopping streets of Seminyak. The immediate surroundings are very calm though. Perfect to disconnect!
The place is good and am surprise that the mosquito is not much a killer. good place to take a break and relax by the pool. As for the breakfast, it is good to change every day rather than have egg and bacon. On overall, the place is clean and nice. The owner is nice enough to allow us to have a super late due to our flight back home is in the evening. Thank you to make our stay pleasant. Cecelia
Villa Senang is pretty much as the photographs show, there were no unpleasant surprises. Everything worked, the beds were comfortable, the staff were friendly and helpful. We were there in the rainy season, so often confined to the sitting area when at home during the day. We asked for some standing fans for that area and the manager brought them within an hour. We asked the staff to arrange cars at different times and they arrived early. There are not many restaurants or shops within close walking distance, but it's only a 10 minute, $2-3 taxi ride to the restaurants and shopping of Seminyak. The ocean is a 10 or 15 minute walk away, with several bars and restaurants accessible from the beach.
The manager at the villa, Made, and his crew made the stay wonderful. We hired a car for the entire stay and the driver was good and helpful. As for the villa, it is a piece of paradise on earth. Clean, well appointed and very comfortable. The photos on the website did not convey all the beauty and serenity. My wife and I spent most of the time resting and relaxing by the wonderful pool. All in all, thanks to Made and his staff for the wonderful time we had in Bali.
Here are our availabilities for the next few months:
Minimum stay
3 Rooms
4 Rooms
from 26/04/2017 to 01/07/2017
Low season
3 nights

USD $

400

USD $

440

from 01/07/2017 to 01/08/2017
High season
5 nights

USD $

520

USD $

520

from 01/08/2017 to 01/09/2017
High season
7 nights

USD $

520

USD $

520

from 01/09/2017 to 20/12/2017
Low season
3 nights

USD $

400

USD $

440

from 20/12/2017 to 11/01/2018
Peak season
7 nights

USD $

545

USD $

545

from 11/01/2018 to 15/02/2018
Low season
3 nights

USD $

400

USD $

440

from 15/02/2018 to 22/02/2018
High season
5 nights

USD $

520

USD $

520

from 22/02/2018 to 27/03/2018
Low season
3 nights

USD $

400

USD $

440

from 27/03/2018 to 04/04/2018
High season
5 nights

USD $

520

USD $

520

from 04/04/2018 to 01/06/2018
Low season
3 nights

USD $

400

USD $

440